I am very lucky to have met some people who want to become my pen pal
and the very thought of receiving a letter in the mail from someone new made me so happy ! ☆
This package is from Ameneh! She has a little tumblr blog
here
.

After opening the package up, I could tell a lot about her. She's a real princess!
Enclosed, Disney princess fabric and stickers for me, bunny buttons, little stars, a handwritten letter, a handmade pouch, and a special bow just for me.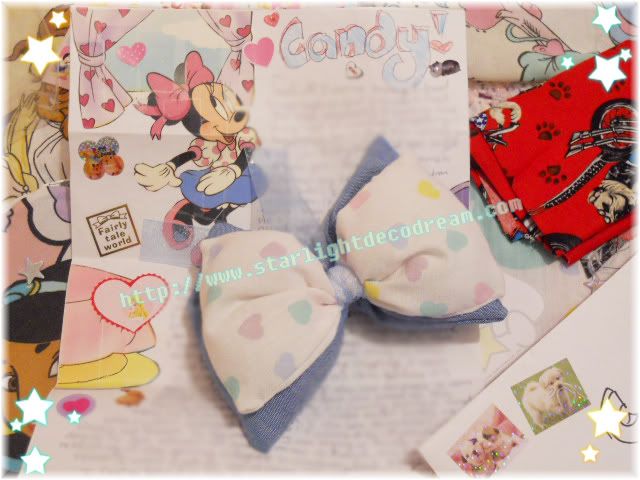 The letter portion consisted of handwriting and a collage featuring Minnie Mouse
from the early 90s series "Minnie n' Me." Even though she did not know, this was something I REALLY enjoyed as a child. I remember my father got me some post cards and a little board book of it. We couldn't afford all of the books so I would take the post card and little book with me everywhere. I bet you all remember something sweet like this! That being said, all of the Disney characters and little animal stickers really shows a sweet and kind heart. How nice, yeah!
Really, I want to wear this every day! The little pastel hearts! The denim! It's so sweet!
It really touches my heart to know someone who barely knows me is willing
and happy to share a part of themselves with me

Sure, online we have our blogs and our rants, but it is not real when you get down to it. When you vent and write out your dreams online, you're doing it less thoughtfully at times?
But I feel this parcel...it really really really says a lot. Something about the handwritten letter, the handmade gifts, the little touches show me of a kind and gentle person. I hope one day to see you in person and I bet you're a lot of fun and very sweet. It's not every day I meet a princess!
I'm glad I "met" you Ameneh, as well as all of the other lovely ladies who have become my pen pal now. Thank you for the bow and all of the little treasures. I hope I can write and create special treasures for my pen pals as well. I am going to write you all soon and I hope you can understand a little more about me when you receive your very special parcels.
Thank you for being my pen pal!
Thank you for being my friend!
I hope I can reach someone's heart as well ♥
with little parts of myself to share.
Until then, thank you all here for reading my blog and
Stay cool~!